Top Attractions
---
Bawean Island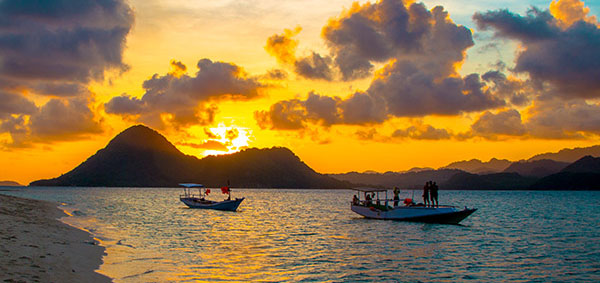 Bawean Island is one of wonderful island in Indonesia, precisely in East Java province area. The island is located at Java Sea, about 80 miles or 120 kilometers north of Gresik This is a small island which its administratively is in Gresik regency - East Java.
---
Baluran National Park

This national park is located in Situbondo regency, East Java. It has a relatively dry climate and mainly consists of savanna (40%), as well as lowland forests, mangrove forests and hills, with Mout Baluran as its highest peak. There have been 444 species of plant and host to 26 species of mammals recorded in the park. You can enjoy the amazing scenery of the forest and do the safari activities in the wild life and feel the magic of the forest.
---
Ijen Crater

Ijen Crater or Kawah Ijen is a complex of volcanic area, which includes crater of Ijen and its plateau, which has 2,600M and 8,660 M high. Ijen crater is located on the borders of three regencies, Situbondo, Bondowoso, and Banyuwangi. The volcanic area is the most incredible and surreal volcanic area which has a gigantic turquois crater lake in East Java.
---
Bromo Tengger Semeru

Bromo have known by all of visitor of the worlds. They come to Bromo to watch the sunrise. The visitor also can look down to the crater that full of its smoke, and feel the cold of the air, is probably could only be done in Bromo. Our eyes will also completed by the sea of sand that the way to reach Bromo's peak. The main gate to the sea of sand and mount Bromo is through Cemorolawang.
---
Jampit Coffee Plantation

Jampit coffee plantations, is an agro-tourism attraction in Bondowoso, which is managed by PTP Nusantara Kalista Jampit VII. The plantation is located ±74 km to the east district Bondowoso. Jampit Coffee plantation covers 4000 hectares area and is located at an altitude of 900 M above sea level.
---
East Java Tourism Events

Warning: Invalid argument supplied for foreach() in /home/inatour/public_html/east-java/fetchEvent.php on line 24

Other Attractions
Taman Safari
Indonesia Safari Park II is located at Jatiarjo village Prigen distric, Pasuruan regency. The wildlife conservation park is a branch of Cisarua - Bogor Indonesia Safari Park. As a wildlife conservation park, Taman Safari Indonesia has various wild animal collections. There are 3 zones in over 340 hectares, wild life zone, attraction zone and baby zoo zone.
Monumen Kapal Selam
Submarine Monument or Monkasel, is a submarine museum located at the heart of Surabaya town. This monument was submarine Pasopati KRI 410, one of the Indonesian Navy fleet made by Soviet Union in 1952. The submarine was involved in the Battle of Aru Ocean to free West Papua from the Dutch occupation. This Submarine has 76.6 meters length and a width of 6.30 meters and equipped with 12 pieces steam torpedo gas.
Sukamade Beach
Sukamade Beach is located in the village of Sarongan, District Pesanggaran, Banyuwangi. The beach is a part of Meru Betiri National Park and is an intensive zone used for observation of turtle eggs and turtle hatchlings release. At the beach, visitors can witness the turtles nesting and race to reach the shore.
Trowulan
Trowulan site is a historic district of archeological sites from Majapahit period. The site is located in the district of Trowulan, Mojokerto, East Java. The findings in museum Trowulan indicate that Trowulan site was quite advanced settlements. In the complex, there are several temples that adjacent to each other and always crowded by visitors such as Tikus Temple, Bajang Ratu, Menak Jingga Temple and other historical sites.
Plengkung Beach
G-Land or Plengkung beach is known as one of the best surfing beaches in the world. The word G in G-Land derives from Grajagan, the name of the bay where huge waves can be found at south Banyuwangi. G-Land offers the world's most demanding surfing spot which recommended only for professional surfers. May to October is the best time for surfing, and it becomes the paradise world of surfer.
Penataran Temple
Penataran is the largest and the most important Hindu temple complex in East Java. It is located 10 Kilometers at north of Blitar on the lower slopes of Mt. Kelud. The temple was dedicated to the Siva and used for at least three hundred years, from the 12th to 15th centuries. Most of the buildings, which can be seen today, however, were constructed during Majapahit's golden century.
Coban Rondo
Coban Rondo is located at Pandesari village, Pujon District, on the slope of Mount Panderman ±32 km to the west from Malang. The height of waterfall is ±60 meter. It is a place where visitors can enjoy the peaceful and beautiful panorama of the waterfall.
Agro Kusuma
Kusuma Agro tourism is located in Ngaglik village, Batu district. It is a one stop shopping service that offers nature beauty and recreational site at the same time. The unforgettable experience can be found here by visiting apple plantation, flower field, coffee field, strawberry, and hydroponics vegetables, which all are organic. Kusuma Agro tourism lies in 17-acre plantation. The tourism object allows its visitors to pick apple directly from the tree.
Cheng Hoo Mosque
Cheng Hoo Mosque in Surabaya is a Chinese Muslim nuanced Mosque that located on Gading Street, Ketabang, Genteng, Surabaya, near to the City Hall Building. Cheng Ho Mosque is also known by the name of Muhammad Cheng Ho Mosque in Surabaya, derived from the name of a Chinese Muslim Admiral. During his travel in Southeast Asia, besides doing his business trade and making friends, Cheng Ho also spread Islam.
Purwodadi Botanical Garden
Purwodadi Botanical garden is a branch of Bogor botanical Garden that is managed by LIPI (Indonesian Scientific Institution). In the area, the visitor can see various collections of plant. Beside, the Botanical Garden is also a recreational place and a place for research on botany. It is quite easy to access from Surabaya and it takes only about 90 minute drives.