Welcome to Ponorogo Regency
---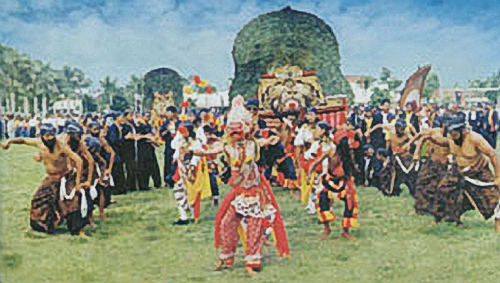 Welcome to Ponorogo regencyvweb site, the purpose of this web site is to make the audience and the publics know and obtain the complete information about various dimensions, dynamics and development potency, which have being and will be developed in Ponorogo regency.

By find our Web site, we hope to all people and the corporate world will feel inspired, and interested to participate in build PONOROGO city to promote, invest capital and technology that had owned.
We also want to inform all people in the world that Ponorogo, East Java has a unique traditional dance called REOG PONOROGO. The visitors can found this original dance just in Ponorogo, East Java - Indonesia. REOG is trully come from Indonesia that never gone, because this traditional dance has its own history and the dancer must special person who able to presents it.

Using a Motto of PONOROGO BUMI REOG – Bumi yang Resik, Endah, Omber, Girang Gumirang welcome to our earth of Ponorogo regency.

Latest News
Reog Ponorogo Reog is a traditional dance that becomes the main identity from Ponorogo regency. By this traditional culture, Ponorogo is also famous as Reog city. This kind of traditional art dance and theatre has been popular in Indonesian even worldwide. Reog National Festival is being held every years along the anniversary of Ponorogo regency and followed by Grebeg Suro celebration. According to the background of the study, Reog is telling about the struggle of a prince who proposing his lovely pretty princess. This dance is staged about 25 –…
---
Reog Ponorogo Reog is a traditional dance that becomes the main identity from Ponorogo regency. By this traditional culture, Ponorogo is also famous as Reog city. This kind of traditional art dance and theater has been popular in Indonesian even worldwide. Reog National Festival is being held every years along the anniversary of Ponorogo regency and followed by Grebeg Suro celebration. According to the background of the study, Reog is telling about the struggle of a prince who proposing his lovely pretty princess. This dance is staged about 25 –…
---
Grebeg Ponorogo Is the biggest culture event in Ponorogo regency that held on a certain occasion of welcomed Islam New Year or Saka New Year that often known as one suro date (one of Javanese month). This agenda entered East Java tourism calendar (Calendar of event). Grebeg Suro is the ritual culture incident and became the party site of Ponorogo people. Usually it begun a week before 1 Suro. It is the series of Grebeg Suro agenda is Reog National festival, various good activity sorts the race and the exhibition…
---
Reog Ponorogo Reog is a traditional dance that become the main identity for Ponorogo regency. Because of this, Ponorogo is also known as Reog city. This theatre has been known wide in Indonesian even foreign tourists. Reog National Festival is held every years along the anniversary of Ponorogo regency and Grebeg Suro celebration. Reog dance is also staged full moon nightly in paseban, Ponorogo Town Square. Reog told about the struggle for a prince who will propose to a lovely pretty princess . This dance is staged about 25 –…
---