Welcome to Sidoarjo Regency
---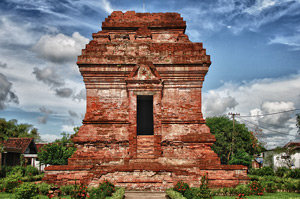 Since 1851, Sidoarjo was known as Sidokare. It was one of Surabaya's area and led by a regent named R. NG. Djoyohardjo. In 1859, Sidokare had separated with Surabaya and become its own regency. Then in couple month, Sidokare had change become Sidoarjo.
Sidoarjo recognized for multifariously its sea fish like milkfish, prawn, crab, cockle mussel, etc. Sidoarjo produces many kinds of foods with fish as the main production. The typical of fish cuisine are easy to find in Sidoarjo, for example; milkfish smoke, a nice food at Mojopahit Street, Sidoarjo. Beside that the tourists also can enjoy another cuisine like, milkfish presto, otak-otak milkfish, lontong mussel, condiment of the fermented prawn, prawn crisply, mussel crisply, etc.
Some village in Sidoarjo also produce 'Batik' painter, such as; Jetis village, Sekardangan village, and Kenongo village. The pattern and motif Batik of cloth Sidoarjo are captivating on the market. Usually, it sell with systems at retail or grocery, so that the tourist is easily get the quality goods.

Latest News
Tanggulangin Leather Industry Tanggulangin leather industry, is an industrial for bags, luggage and products related and become an icon for Tanggulangin district. This industrial was begin in 1939, when some craftsmen started making bags and suitcase stuffs. And in 1976 it was established the Bags and Luggage Cooperative Industrial (Intako), which was initially consisted of only 27 people. The venture capital is obtained from members' savings. On its way, the cooperative continued to grow and the members has reached 354 crafters of Small and Medium Enteprises with the assets about…
---
Tanggulangin Leather Industry Tanggulangin leather industry, is an industrial for bags, luggage and products related and become an icon for Tanggulangin district. This industrial was begin in 1939, when some craftsmen started making bags and suitcase stuffs. And in 1976 it was established the Bags and Luggage Cooperative Industrial (Intako), which was initially consisted of only 27 people. The venture capital is obtained from members' savings. On its way, the cooperative continued to grow and the members has reached 354 crafters of Small and Medium Enteprises with the assets about…
---
Delta Fishing Sidoarjo Delta fishing is the appropriate place to be the venue of birthday party, reunion, gathering, garden party, games, meeting or out bound and some occasions. Delta Fishing have some facilities to complete the enjoyment like free wi-fi Internet, swimming pool, stall, playground : water cycle, rowing boat, trampoline, out bound and many more. Those who are fishing at the ponds can ask the waiter to cook the fishes, there are optional menus like roasted fish, fried fish, sweet and sour or spices. There are some ponds with…
---
Mushroom Cultivation Oyster mushroom business is promising. Beside the raw mushrooms and the seeds, mushrooms processed food sales are also promising. Mushroom is known for it delicious and can be processed into various dishes. At first glance, the meat tastes like chicken. Mushrooms are very popular vegetarian because it considered as the substitute of meat. Mushrooms, is an easy-to-cook material that can be added into some foods. Moreover, there are various kind of foods that can be produce by using mushroom like, dodol or kind of sweet sticky cake, mushroom…
---