Taman Safari Indonesia II
---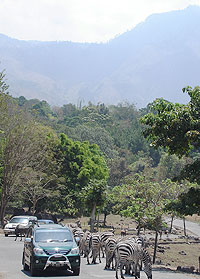 This tourism object is located at Jatiarjo village Prigen distric. This natural preserve is the branch of Cisarua - Bogor natural preserve. As the natural wild life, preserve Taman Safari Indonesia collects various wild animals. This wildlife preserve is 295 hectares, the wild animal such as : lion tiger, wild buffalo, komodo, rhinaceros, bison that live in open area. Lies at the slope of Mt. Arjuno 800 – 1.500-meter sea level cover 340 ha and divided three zones. Wild life zone, place for visitor observing a natural wild life.
Attraction zone for performing education through entertainment attractions. Each Sunday we can see that circus of Taman Safari Indonesia Jl. Prigen. Baby zoo zone place for visitor to getting photos and closing to the baby animals.
Taman Safari surrounded by the beautiful panorama and fresh atmosphere with temperature 24-25o C, it also has supporting facilities such as; recreational park for children. There are dozens of rides and games designed to be fun for people of all ages. Elephants, Camels, Ponies and Ilama are always exciting for children. Don't forget to visit the restaurant and souvenir shops to relive the adventure.This location is also easy to be reached. It take only 1 hours from Surabaya or Malang.
Visit Taman Safari Indonesia II with your family, friends or the other. Here you can meet with the youngest animals. You also can take a picture with young Orang Utans, white and the endangered Sumatran tigers, African Lion. Watch and learn the Orang Utans, Chimpanzee, Proboscis Monkeys and more as they swing from branch to branch in their unique cultural settings as well as Cheetah, the fastest land animal in the world. See also our variety of attractive birds in our walk in aviary. Then it's time to go to through the reptile house and see all kind of snakes, lizards, and nocturnal creatures from all over the Indonesian.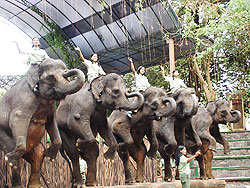 The adventurous will enjoy the Safari walk that wonders through the Mount Arjuno and at the camping ground area. Trained guides will accompany your trip. Fresh air and character building activities abound in the bound area adjoining the park. Rope climbing and flying fox are fust a few of the exciting activities in this area.


Latest News
Bromo Cottages Hotel was establish in 1991 with only had 66 rooms. Over times, they have been doing some additions, improvements and repairs for rooms, restaurant area and the most recently added, the passenger elevator. A peaceful and pleasant place for your week-end or holiday relaxation at the Bromo Cottages Hotel , each for the 80 Superior Rooms, 3 Suite Rooms, 20 Villas are equipped with private bathroom (Hot and Cool Water). Temperature all year round : Day time : 22? – 26?C, Night time : 15? – 18?C Humidity…
---
Sien Orchid Agrotourism Sien Orchid is an orchid garden which stores various kinds of orchids and ornamental plants, located in between Pandaan Tretes access road, where the tourists can see beautiful orchids and both can be bought as souvenirs. In this place also cultivated a variety of orchids for sale on the preservation or for public sale. They have Dendrobium, Vanda, Cattleya, Rhyncostylist , Phanalaenopsis and many more as their collections. More info www.eastjava.com
---
Tengger People Tenggerese or Tengger People is one of Indonesian tribes that live around Bromo Mountain which located around Pasuruan, Lumajang, Probolinggo and Malang Regency. The Tenggerese are the descendants of the Majapahit Princes. Their population is about 600.000 inhabitants within thirty villages. Tenggerese are being known as obedient Hindu followers. For them, Bromo Mountain is sacred. In once in a year they held ceremony of Kasada or Yadnya Kasada as a thanks giving to the Lord. This ceremony is always held in midnite in full moon time around date…
---
Kaliandra Sejati Kaliandra is a non-governmental organization incorporated under the laws of the foundation. The name is inspired from the tree Kaliandra or Caliandra calothyrsus, known as a pioneer plant, because of its ability to survive in critical lands, and has many functions. Kaliandra is developing a range of training programs and facilities that can be enjoyed by the visitors, both local and international. The advantage afterward is used to support the social activities around the local area, like, the natural and cultural preservation, local economic development, and improving the…
---